So, you've settled on your first interior plant project! Congratulations! To make sure it goes smoothly, and that the client is completely satisfied with your work, we have collected a helpful guide on pots and plants.
Living room
Here, you can safely use both single plants and group compositions. In window zones, place light-loving plants in pots, such as Composits Polystone Couple Round Planter. If the room's space allows, then along the wall organize a group composition of large and medium size flowerpots with shade-tolerant specimens. If you prefer light-loving plants, install a Phyto lamp, which compensates for the lack of sunlight and creates beautiful lighting in the room.
Bedroom
Bedroom interiors need just a few plants. On the bedside table or nightstand, install Nostra Fiori Ceramic Metal Glaze Round Tall Planter with sansevieria. Place pots with chlorophytum, spathiphyllum or anthurium on the windowsill. In more spacious bedrooms, single large pots of Square Fiberstone Contemporary Planter with a ficus of elastic Robusta are appropriate.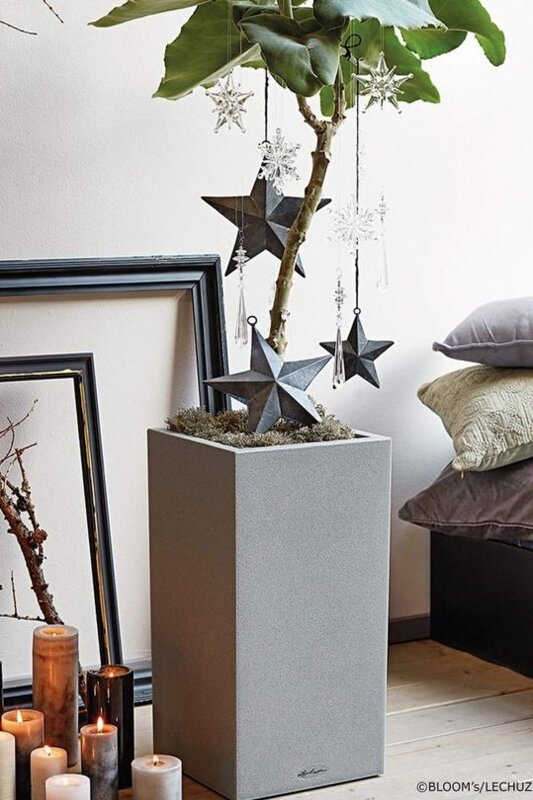 Kitchen
When decorating the kitchen, fill pots with heat and moisture-loving plants. They can be placed on windowsills or tables. We recommend planting citrus or kitchen herbs (basil, mint, thyme and others). For light kitchens, choose small indoor pots in white or light grey, and for wooden ones, opt for darker tones or even black.
Nursery
The motto of phyto-design in nurseries is "Better less, but with health benefits". Flower pots installed on shelves and window-sills with chlorophytum, dragonza or crassoule, are appropriate and effective decisions. If the space allows it, you can also install an Idealist planter with an olive tree.
Bathroom
When choosing plants for the bathroom, be sure to consider the high humidity in the room. The best solutions for such areas are aloe vera, orchid, fern, dracaena, spathiphyllum, bamboo and chlorophytum. These unpretentious varieties calmly tolerate both high humidity and lack of natural light.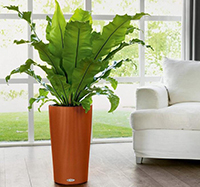 How to choose plants for your interior
When choosing plants for a premise, consider its microclimate. In this article, we'll share some helpful tips about which indoor plants are most popular for rooms with different microclimates.
Basic rules for the choice of indoor plants:
Try not to buy large adult plants. Young plants better tolerate by stressful situations, and are easier and faster to adapt to changing conditions.
While in the shop or nursery, be careful not to purchase plants standing in aisles, near open doors or close to window glass. Plants near aisles could be bruised or damaged, while plants near doors could be affected by drafts and frequent changes in temperature. Plants placed near window glass could be sunburned, or injured from contact with cold glass.
When choosing a plant in a shop, check the soil inside the pot. It should be slightly damp; not too dry and not too wet (unless the plant was recently watered). There should be no water in the pan. There should be no voids between the walls of the pot and the soil. Clay pots should not contain any green or white plaque. Additionally, there should be no green deposits on the soil. There should be no dust or cobwebs on the leaves. Look not only at your chosen plant, but also at other nearby plants. If these conditions are not met, this store may not be the best place to make a purchase, as their plants could be the victims of neglect, or infested with diseases or pests.
The plant you have chosen should be absent sluggish leaves, twisted bodies or dry tips. The plant itself should have leaves evenly distributed on all sides.
If it is a flowering plant, choose one on which there are more buds than blossoming flowers.