Plastic Planters – Sturdy and Versatile Alternative
Plastic pots for plant and plastic garden troughs are great value for money, light-weight and durable containers, which makes them perfect for all indoor and outdoor areas. Plastic planters are a simple and effective way of helping your plants to thrive and look great in your garden.
Instantly brighten up your space with our range of plastic garden troughs and tall plastic planters or use plastic rectangular planters as window boxes to grow fresh herbs in. In our online shop at Getpotted.com, you will find a range of designs, materials and shapes for both indoor and outdoor use. With prompt delivery within the UK, you should be able to find the right pot at the right price for you.
What makes plastic pots so great?
Importantly, the material is UV resistant and sturdy, which helps plastic pots retain their looks through many seasons. Plastic rectangular planters, as well as other shapes, easily adjust to the climate, thereby protecting delicate root systems.
Photos of plastic planters demonstrate how they often mimic natural materials, such as stone, but are a less expensive alternative. Coming in a wide variety – from vases to tall plastic planters, and a range of colours and patterns, they are a perfect fit for any decor.
Things to know about plastic planters.
Plastic planters are very flexible and can be used for a range of purposes. You can use light-weight plastic garden troughs as dividers to transform your outdoor space or use plastic rectangular planters to turn your windowsills into flower or herb gardens.
Plastic garden troughs and planters are made of inert materials and those made of recyclable materials represent an eco-friendly and safe way to grow plants. Additionally, plastic pots can be more child-friendly, unlike easily breakable clay pots.
Plastic pots retain moisture and don't soak upwater themselves, unlike ceramics or terracotta, which makes plastic planters a great choice for moisture-loving plants or themore hands-off gardener. They also tend to have more drainage holes than other materials, but it's easy to drill additional holes into your plastic pots if needed.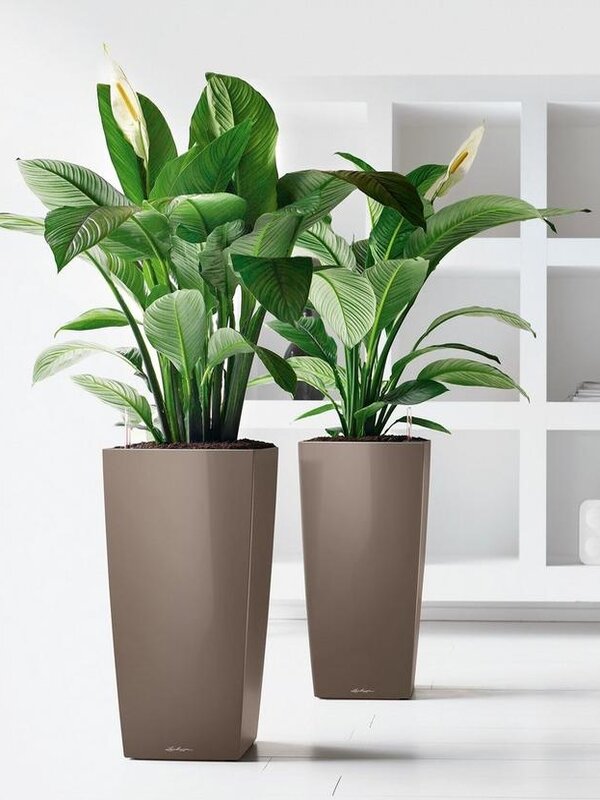 Going on travels?
Consider buying plastic planters with a self-watering feature, which has become extremely popular, as it helps to maintain optimum moisture levels and prolongs the life of flowers or herbs. Using plastic pots with a self-watering reservoir system allows you to take longer trips away from home and not worry that your plants will fade.
Normally, an excess of standing water in plastic pots could drown roots and result in plant death. With self-watering plastic planters, water is drawn automatically from the watering reservoir into the wick to keep your soil watered perfectly. Just read the reviews. Fill them with water and rest assured that your plants will be sufficiently watered for several days.