Pallets are a simple, cheap and affordable material for making flower planters. You can buy it in bulk and even find a few pieces for free in the market. Such wood is an excellent material for home art. Many people have found use for such designs and create magnificent things from them: furniture, garden decor, stands and even flower pots. These are smooth peeled plates made of natural wood. If you want an orange planter or more creative color, then do it yourself and use a special paint. It is important to remember that there are 2 types of pallets: marked with "MB" and "HT". The first type cannot be used to create pots because this material was chemically treated.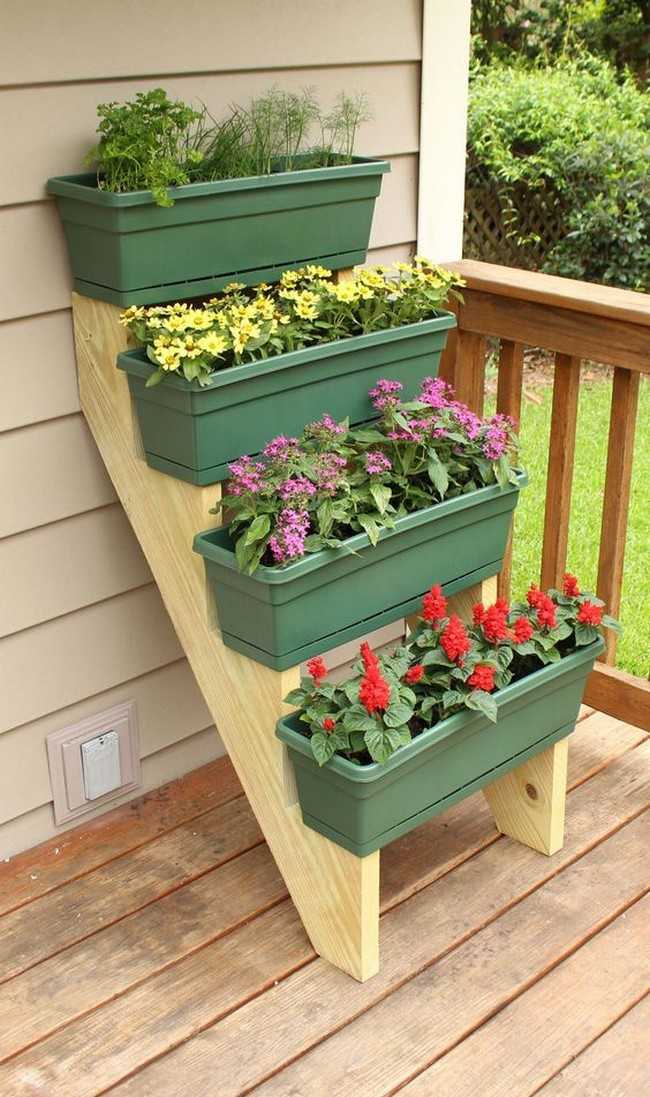 2 methods to make flower pots from a pallet
Human fantasy knows no limits. People have come up with unique ways to create flower pots from simple wooden pallets. You don't need sophisticated tools and specialized knowledge to do this. Learn these simple steps and you can create unique creative masterpieces.
1. Simple fabric pot
First you need to brush the pan and then sand the sharp edges. Remove roughness with sandpaper.
Now you need to put the pallet "hole" down and cover with a cloth. This is a special material that is used for weeds.
Use staples to secure the fabric while paying attention to the walls. The material should not stick out of the pallet and it should lie tightly in the corners and underneath. Consider the weight of the soil.
Now place the soil in the nest that has formed. This is a convenient way to grow short plants, greens or seedlings.
2. Pot for large garden plants
Take some pallets and remove the planks. You need a few to make the 7 planks.
The planks are long and you need to cut this in half. You should have 28 small, equal lines.
Now use the cross-section wood corners to make the base frame out of them.
Attach all 28 planks on four sides to create a box.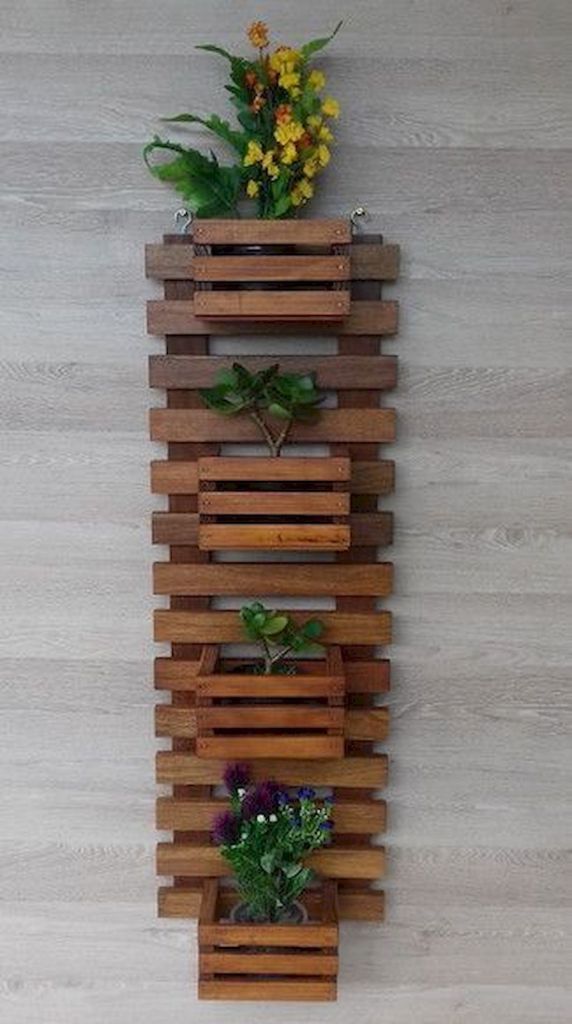 Features of using pallets as flower pots
Such things are very easy to use. You can cloth the surface of the pallet and then turn it over. You will end up with long, even cells. Put seedlings or herbs there. You will be able to transfer this from the garden to another location. Wooden pallets are not heavy even with soil. If you want to make tall pots, remove the planks and make a rectangular type out of them. It is important to consider that a tall pot must be thicker in order to be stable.
If you want to grow greens, then make an upright stand. Take one pallet and remove the planks through one. Leave the ones that intersect with the bindings. Attach the free planks to the frame perpendicularly. You get small, narrow cells. Place the pallet on and prop it up against the wall. You get small shelves to put seedling cups or small bags of soil there.
Pallet flower pots can stand in the garden, on the terrace, balcony or veranda. To create a flower planter, you will need nails, screws, and building tools. Such material needs a dry, not humid climate. But also such pots can stand in winter and last for many years. These flower pots come in a variety of shapes, colors, and sizes. If you want to paint the surface, do not forget to apply clear varnish to secure the base.
If your pallet has been chemically treated, then you need to use an insulating material so that the soil with the plant does not come into contact with the wood. If you want to leave the soil without insulating material, then cover the pallet wood with a special solution. It is also best not to leave these planters out in the rain. Place your flowerpot under a canopy. Frequent exposure to water can lead to rapid decay of wood. Create a cozy and warm atmosphere with homemade flowerpots from a pallet and you will feel real comfort.