One of the best street planter brands for gardening is IDEALIST. Fiberstone pots are frost resistant, resistant to mechanical damage, able to withstand sudden temperature changes and do not let water in. They can be left in the open all year round in even the most severe climatic conditions. At the same time, they will not lose their attractive appearance and performance.
VIEW OUTDOOR PLANTERS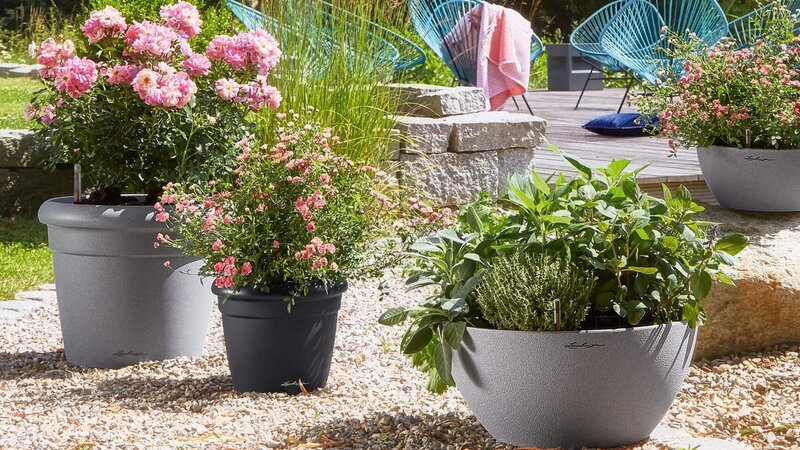 Entrance area
Decorate wide staircases to the house with rectangular or square planters of small size. Rectangular models are also suitable for wide terrace railing. Additionally, you can arrange hanging pots with ampelopsis plants. Moreover, in a single pot you can plant not only one specimen of plant, but also create entire flower arrangements of several combined varieties.
To accentuate the entrance of your home, apply a classic architectural and landscape technique: install a pair of large or medium size flower pots. Such models as Square Box Contemporary Grey Marble Light Concrete Planter or the Faux Lead Chelsea Box Square Grey Light Stone Planter will do. You can also choose smaller dimensions and install on a pedestal so that the plants sit at a higher level.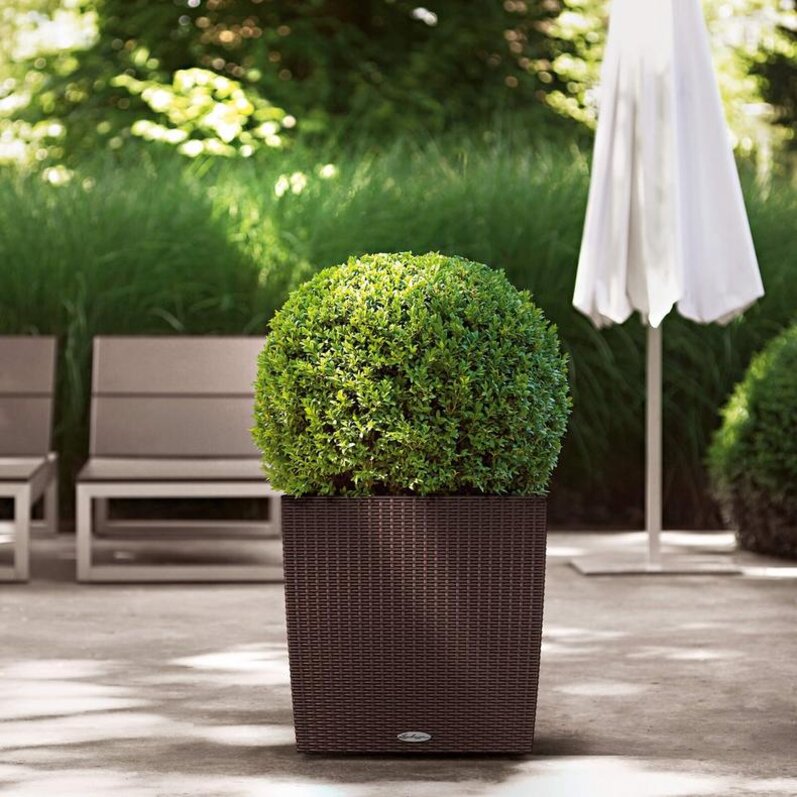 Front Garden
You can separate your front garden from your neighbors or from the street with the help of low-level or medium-sized dividers with flowers or small deciduousplants. Another idea is to arrange models in a row along the paths to the house in order to visually distinguish the passageway from the green zone. The pots themselves can also be a great alternative to garden fencing.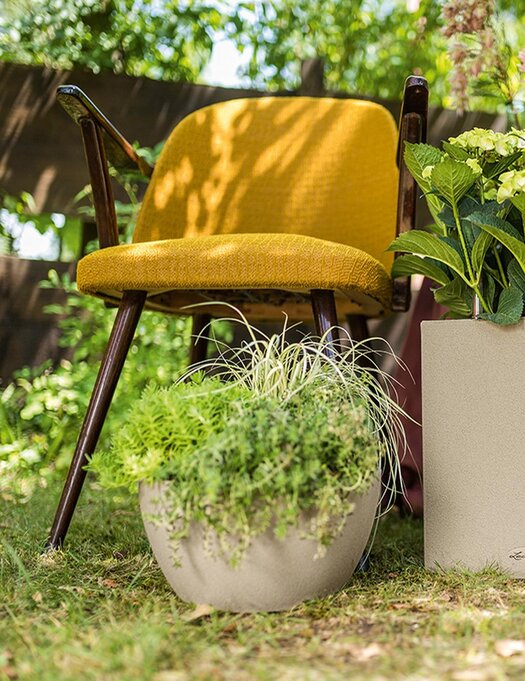 Patio or terrace
As a rule, covered terraces, gazebos, patios and barbecue areas are zoned. The entrances to these zones can also be indicated by a pair of high pots.
You can stylishly indicate these zones around the perimeter or separate the cooking zone from the rest area. If the patio is adjacent to the neighbors, you can create visual protection with high dividers and appropriate tall plants.
If there is a pool, it should be protected around the perimeter by low dividers spaced approximately 3-4 meters from one another.
Garden
The English garden is, first and foremost, a garden with a well-thought-out structure. Its main purpose is to create a walking area, with landscapes and series of objects that you want to walk around and admire endlessly, against whose backdrop not only the body, but also the soul can relax. The "set" of mandatory zones and facilities in such a garden is limited to a rather strict list of generally accepted techniques that complement the house. A large lawn, a front garden, an arbor or a pavilion, a fruit tree or orchard with an ornamental garden, a pond - these are the objects that are present in the traditional English garden. Zones are divided with trimmed green hedges or pots.
VIEW GARDEN PLANTERS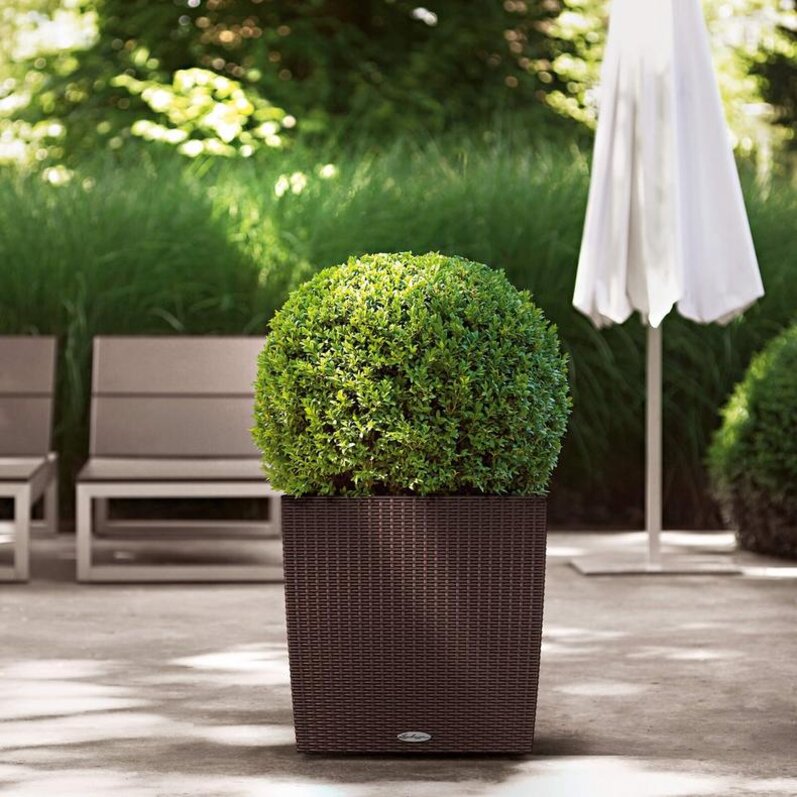 Playground
We recommend furnishing the playground with high pots around the perimeter so that children are in no danger of colliding with corners. Inside this zone you can place a sandbox, a children's camp or benches for parents. Deciduous plants are recommended, because children of different families gather at such sites and someone may be allergic to pollen.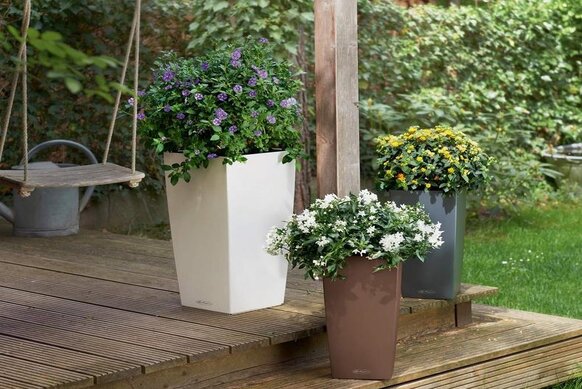 What to look for when choosing an outdoor plant:
Age of the plant
The optimum age of a plant should be 1-2 years. Such specimens are perfectly acclimatized and will be able to quickly adapt to the weather conditions at your site. Of course, you can take seedlings that are already about 4–5 years old, but in these cases you do so at your own risk, as they take root for several years, and may react very negatively to transplants.
Root System Status
This is one of the most important aspects when choosing plant seedlings. It is precisely by the state of the root system that it is possible to determine whether a tree (or bush) is ill with some dangerous disease.
Roots must look healthy. They should be absolutely smooth, without any growths or ulcers.
Be sure to make and examine a small cut: the root should have a light shade and be slightly moist. If the root is dark, this is clear evidence that it has at some point been frozen. If there is no moisture at the cut, and the root is completely dry, this means that the seedling most likely will not take root (or it will not take root for a very long time).
Appearance
The trunk of the seedling should be smooth. Curved trees and bushes are best avoided. There should be no dark spots on the bark or surface. Make a small scraping in order to examine the surface beneath the bark, which should have a light shade, often of a greenish tint. If the bark is dry, dark and shriveled, this is clear evidence that the plant has long been deprived of soil. Such planting material will likely be completely unviable and will wither quickly.
It is also worth examining the leaves, if the plants have any. They should be healthy and elastic. Do not acquire planting material if the leaves have lost turgor or droop. This is clear evidence that the plant was dug up too early, and will perish during their first winter frost.