The fashion for the gabion style is becoming more popular because it looks very unusual. This is a metal mesh filled with stones. The shape and size of the mesh may vary. It depends on your preference and the purpose of using such a construction. This can be not only a decorative installation, but also an outdoor table, a curbstone, a base for a brick or ceramic barbecue. The gabion is also very popular for lovers of authentic flower pots. Of course, the modern market offers a large selection of flower pots from all kinds of materials. You can find plastic, ceramic, concrete, wood or fiberglass planters. A huge selection of colors, sizes and shapes will not leave you indifferent. But the ideal solution is to make a flower pot with your own hands. Try to make a classic - gabion.
Phased creation of a gabion flower pot
Prepare your material first. The metal mesh can be off-the-shelf or you can do it with a welder and fittings. But you can also find a ready-made base at a hardware store. This can be a ready-made metal net that you then cut into certain pieces and connect. Stones can be taken in any size. Crushed stone is undesirable for a gabion because it is small in size.
First, you need to purchase a mesh. This can be a ready-made canvas or metal rods. The cells should not be too large or too small.
Inside, you need to leave room for a flower pot. Make a volumetric mesh where you need to put one smaller one in the larger one.
Beforehand, you can make posts or assemble the net separately. The installation of posts means that your gabion will not be portable. The stationary type is easier to install.
Stretch the net over the posts or make the shape separately. It can be a square or an elongated rectangle. If you do not want corners, then make a round design.
Place stones in the grid, starting at a large size. This is necessary so that the lower part of the structure is heavier and more stable.
Fill in the empty space with rocks, leaving room for the flower pot.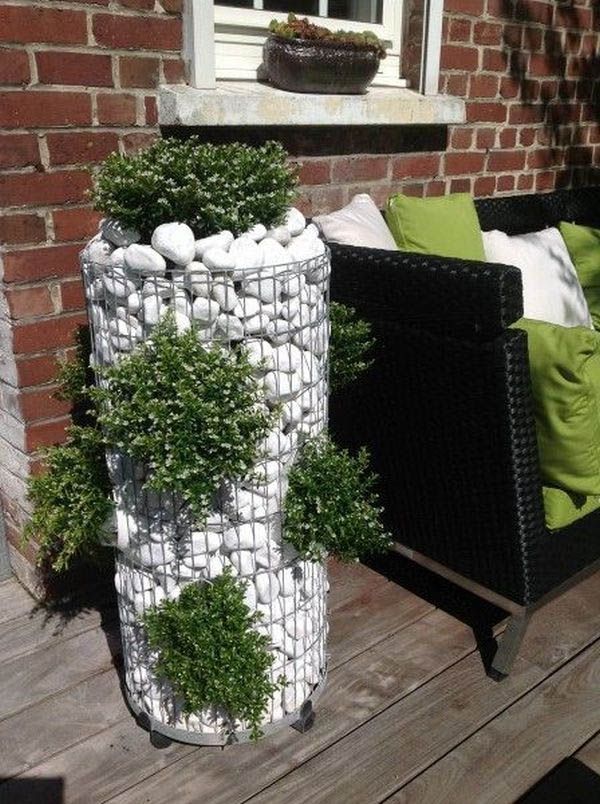 Metal is the most popular material used in all favorable conditions, temperature and humidity. But if your region is warm and dry, then you can find other materials. Your mesh must be strong and secure to prevent the structure from falling. You can also cover the top with a net or leave the stones uncovered.
Useful tips when creating a gabion
It is not that difficult, but you need to consider certain points for the form to be reliable and stable. First, select the plant that you will grow inside the gabion. You can even opt for an ornamental tree because the stones make the gabion resistant. To fill the mesh, you can use not only stones, but also cobblestones, wood, gray pebbles. There are designs not only for flower plants but also fences or decorative walls. You can grow plants without a flowerpot because the gabion has a constant supply of air, which contributes to the normal growth of plants. The stones can serve as a drainage system and the soil is placed in the space inside the gabion.
Modern markets offer a wide range of products for creating gabions. These are different styles, sizes, cell diameters, and so on. But the ready-made types do not always correspond to the dimensions you need. They may not be suitable for your plants or flowers, so you can do it yourself. Remember two important points that will help you simplify the development process: designing the future composition and calculating the required amount of materials. To understand the type of such constructions you can try to make a small type. Feel free to experiment or be very creative, your own gabion is a stunning piece of outdoor decor.