Polystone: a growing garden design trend
When it comes to accessorising with plants, the right planter can be the ultimate touch that helps to customise your unique decor or even enhance the style of an entire house or garden. Here at Getpotted.com we keep a close eye on the latest trends in decorating in the UK and worldwide and are ready to help you choose the piece that will embellish any indoor or outdoor living space.
Large polystone planters have firmly established themselves as an increasingly popular choice among interior designers and homeowners. These planters appear outside restaurants and hotels, in the most tasteful interiors, and are featured on the fashion-forward Pinterest boards. Given the growing momentum of this trend that will likely continue to accelerate in 2018, we decided to take a closer look at what makes large Polystone planters so special.
Why choose Polystone over other materials?
Polystone is an extremely dense compound made up of unsaturated resin and stone (usually powdered granite). Such construction delivers an incredible lightness in comparison to conventional stone pots and planters, yet an outstanding durability. Polystone is a UV-resistant and completely frost proof material that is easy to maintain and look after, making it an ideal choice for both indoor and outdoor decoration.
It resists stains, mold, mildew, and sea salt spray, and will not crack or become brittle unlike real stone containers or plastic. All these great qualities of the material will make your pot last for decades. Apart from the advanced functionality, large Polystone planters recognised as "planters with style": they have the appearance of real cast stone with a smart clean look and create a bold contemporary statement to suit any home or garden.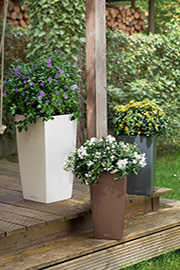 The variety of polystone planters
Polystone planters compliment a broad range of foliage and tree types. The large Polystone planters are suitable for heavy duty planting, such as with trees, palms and agaves, whilst the smaller sizes are ideal for planting succulents, sedums and floral arrangements. Keeping up with interior trends, Getpotted.com online shop sells a quality range of polystone planters in a wide variety of clean-cut shapes, sizes and attractive colours.
Our large Polystone planters are one of the most popular offers due to their versatility of use in both interior spaces and outdoor areas. You can choose from bowl, round, square, tall or rectangular shapes to create a coherent design statement in your decor. This range is presented in high-quality finishes, including glossy, matte, metallic and natural surfaces, and is available in an assortment of colours. We encourage you to browse our selection and are happy to help you buy the perfect shape pot for the right price that fits your budget.