«If there are plants in your home, it feels more snug and warm» Catherine Anderson shares her experience about planting.
Catherine, there is a wide variety of flower pots and planters on the market. What criteria were the most important when you chose the LECHUZA SELF-WATERING PLANTER and what made it preferable to the competition?

Catherine Anderson: LECHUZA planters are very stylish and make my house look cosy – I don't need to water the plants as frequently, either.
What plants do you grow at home, including those for which you use LECHUZA?

C.A.: I mainly grow non-flowering plants, such as Chrysalidocarpus, Pepper-elder (Peperomia), and Ficus benjamina (weeping fig).
How long have you been planting? Do you have any favourite plant species?

C.A.: I've had plants at home for more than 20 years. I like all kinds of plants, so I don't really have a favourite plant species.
Have you been confronted with any difficulties while handling plants? How do you overcome them?
C.A.: The main problem is making sure the plants get enough water when you have to be away fr om home or when you go on holiday. The LECHUZA self-watering system has completely solved that problem for me.
Does LECHUZA make life easier for you? Does it help with the process of handling plants?
C.A.: It really simplifies the process! As I said, there is no need for frequent watering or soil enrichment. Everything is in the drainage.
Do you notice a difference in plant growth between LECHUZA and other pots?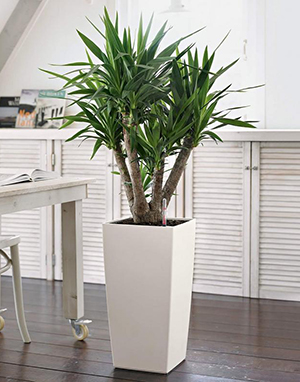 C.A.: Definitely. Plants in LECHUZA planters have large crowns. The tips and edges of the plant leaves never get dry, even in winter!
Modern-day flowerpots should be functional and stylish at the same time, so they take an active part in creating interior design. What is more important to you – functionality or how the planter matches the space?
C.A.: I chose LECHUSA pots for their functionality first, but the fact that they also look beautiful is a great advantage too.
What is the most enjoyable in planting for you?

C.A.: I'm happy when all of my plants have lush greenery, which is most of the time now.
Do you believe that plants and flowers should be in every home?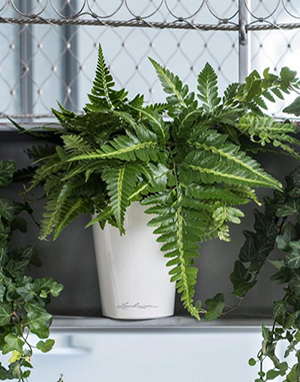 C.A.: Absolutely! If there are plants in your home, it feels more warm and snug.
Do you place plants on the balcony during the spring-autumn period?
C.A.: I used to place plants on the balcony. It's delightful to look at, but when you bring them back inside, they sometimes have trouble getting acclimatised, so now I keep them in their regular spots indoors all year.
Do you use tips and recommendations fr om florists or the internet, or just go with your gut?
C.A.: I rarely use the internet, only in cases when I get a plant which I don't know much about.
Wh ere do you prefer to buy new plants?
C.A: I prefer to buy plants in specialised shops, where you can be sure that the plants have been handled in a proper manner.
What suggestions can you give to our readers if they want to grow their own plants at home?
C.A.: If you are just getting started with houseplants: don't be afraid to experiment or shrink from any difficulties! It's worth all of the effort.
What advice can you give to a reader who is thinking about buying a LECHUZA SELF-WATERING PLANTER?
C.A.: Without a doubt, I think they should! Many of the main problems of keeping houseplants are avoided with a LECHUZA planter.
Column written by: GetPotted.com