«Flowers absorb the good vibes in your home» Anna Dean speaks about the special aspects of window gardening.

Anna, there is a wide variety of flowerpots and planters on the market. What made you choose the LECHUZA SELF-WATERING PLANTER and what made it preferable to the competition?
Anna Dean: LECHUZA planters are good-looking, handy and convenient. There's a wide variety of styles in the product line and they're never out of stock.
The planter is one of the only ones that I can rely on. Plants can be left in the trust of the planter with no fear of running out of water.
What plants do you grow at home, including those that you grow in LECHUZA planters?
A.D.: I have many different flowers, trees and shrubs growing in my planters. In the summer, I particularly like Impatiens, Petunia, Viola, Ageratum, Arctotis, Tagetes, Dianthus and many others in my garden.
For indoor decoration I have Anthurium, Ficus, Orchids, Peace Lily, Chrysalidocarpus, Date and Dracaena.
How long have you been gardening? Do you have any favourite plant species?
A.D.: I've been gardening for at least 15 years, and I'd have to say I don't have a favourite plant species; they're all so interesting and uniquely beautiful.
Have you been confronted with any issues while handling plants? How do you overcome them?
A.D.: Plants without proper watering, droop during business trips or while you're away fr om home for long periods of time because they need regular watering. But I don't have this kind of problem now, thanks to planters with the LECHUZA self-watering system, they always bail me out!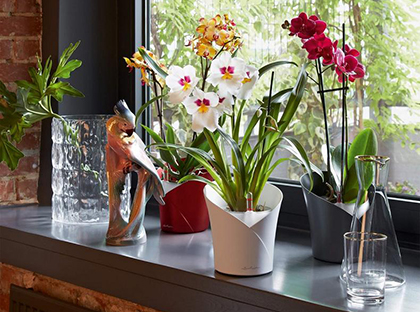 How does LECHUZA help with the process of handling plants?
A.D.: These planters are the only ones that lovely greens and flowers can rely on; they save them from drought even when you're away from home - and as a bonus they fit well into many interior designs too!
Do you notice a difference in plant growth between LECHUZA and other pots?
A.D.: Certainly, there is a difference. Typical pots often contain the growth of plants due to their limited available space, but LECHUZA planters are spacious and the soil is saturated with water and fertilizers; ideal conditions for maximum growth.
Modern-day flowerpots should be functional and stylish at the same time, as they often take an active role in interior design. What is more important to you – functionality or the design of the planter?
A.D.: First, functionality, and then design. With such a wide variety of colours and styles, there is no difficulty in choosing the right planter for your home.
What is the most enjoyable part of planting for you?
A.D.: The pleasure in planting for me is in enjoying my green, blossoming plants.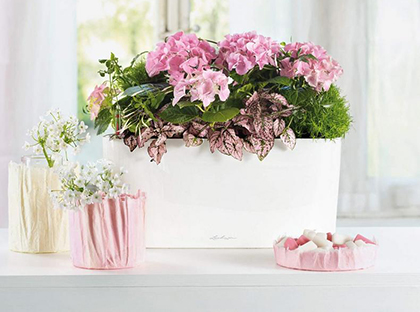 Do you place plants on the balcony during the spring-autumn period?
A.D.: I plant annuals outside every spring and they grow until first chill. Then I repeat the process every year. Flowers on the balcony are not just beautiful, they are lavish, blossoming compositions which attract the attention of passers-by. And almost everybody is glad to see my magnificent flowers!
Do you use tips and recommendations from florists and the internet, or just go with your gut and trust your own feelings?
A.D.: I always rely my mother for advice and of course my own experience, but sometimes, I read advice on the internet.
Wh ere do you prefer to buy new plants?
A.D.: I look for new plants in large garden centres, so I can feel, see and understand what I need. I don't buy plants online. I had a negative experience purchasing plants online, and that really put me off the idea. When you see a picture, it's lovely, but then the plants that are delivered are just not the same.
What suggestions can you give to our readers if they want to start growing their own plants at home?
A.D.: Jump in and don't have any doubts. As I've written before, flowers are like kids. They are a delight for the eye and they indulge the soul!
What advice can you give to a reader who is thinking of buying a LECHUZA SELF-WATERING PLANTER?
A.D.: I thoroughly recommend them. Plants need comfort and cosiness, so your plants will feel comfortable in these planters, and you can easily take care of them. Love your flowers and they'll love you back. They will make you happy with their bright greens and splendid array of blossom colours.
Column written by: GetPotted.com