«As a child while visiting my mother's work at the research institute I saw plants being set in tin cans by her co-workers»
«While visiting my mother's work I saw plants being set in tin cans»


As part of our «LECHUZA Heroes» series, we present an interview with Vanessa Gerald about the role of plants and their handling.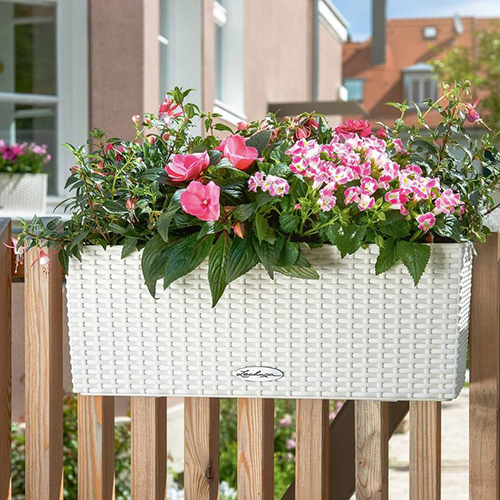 Vanessa, there is a wide variety of flower pots and planters on the market. What criteria was the most important when you chose the LECHUZA SELF-WATERING PLANTER and preferred it to any other?
Vanessa Gerald: Of course, the drainage and watering systems are noticed first. I also pay attention to soil to make sure there are no slugs or other foreign materials, which ordinary soil in sacks is sometimes full of. The opportunity to make the ground surface clean and hygienic was the main reason to choose these planters. Design is also not so unimportant – the style is laconic and sleek.
What plants do you grow at home, including those for which you use LECHUZA?
V.G.: I grow many types of greens. I like different species of Hibiscus and Orchids. I plant violas in small pots; ficus and palms in large planters.

How long have you been planting? Do you have any favorite plant species?
V.G.: I've been planting since childhood, but not too much. I do much more planting now since I've started buying LECHUZA self-watering planter.

Have you been confronted with any difficulties while handling plants? How do you overcome these difficulties?
V.G.: Honestly speaking, I don't run into difficulties with my plants and flowerpots.

How does LECHUZA help with the process of handling plants?
V.G.: It's very easy to water plants. Especially around the country house, where the water has large amount of salts. After watering there are no salt stains on the surface.

Do you notice a difference in plant growth between LECHUZA and other pots?
V.G.: Oh, yes! I don't buy simple pots anymore.

Modern-day flowerpots should be functional and stylish at the same time, so they and their plants take an active part in creating interior design. What is more important to you – functionality or how the planter matches the design?
V.G.: Absolutely both functionality and design. As a child while visiting my mother's work at the research institute I saw plants being set in tin cans by her co-workers. My mother told me that flowers are for decorating interiors, but how can a flower in a tin can decorate?!
It was a lesson for life, and I decided to buy plants only if I could afford a good-looking planter for them, so they could be an essential part of a trendy interior.

Where is the zest in planting for you?
V.G.: I do planting to emphasize an overall impression in my interior decoration. Green plants and blossoming flowers revive any interior.

Do you subscribe to the opinion that plants and flowers should be in every house?
V.G.: I suppose that plants should be in places where they are loved.

What is the role of greens in your home?
V.G.: For me plants are mainly for the decoration of interiors and landscapes. Although there is also an educational component, when my children take care of the plants, control the float level and water their own plants in time.


Do you place plants on the balcony during the spring-autumn period?
V.G.: Yes, my house is decorated with Geranium and Petunia in LECHUZA outdoor flower pots.

Do you use tips and recommendations from florists or the internet, or just go with your gut and trust your own feelings?
V.G.: Flower-growing is not the main activity in my life so I can't afford to spend as much time as I want to. My own level of knowledge is quite enough for planting.

Where do you prefer to buy new plants?
V.G.: I prefer to visit special stores. It offers a wide range of plants and low affordable prices.

What suggestions can you give our readers, if they want to grow their own plants at home?
V.G.: Start with orchids. They don't need much care, but the blossom is so splendid.



What advice can you give to a reader who is thinking of buying a LECHUZA SELF-WATERING PLANTER?
V.G.: You should buy them. They are a bit expensive. And I pause to think before every purchase. But then I buy the planter and just enjoy using it.

Column written by: GetPotted.com