If you love flowers then you want to refresh your home with them. Not always living space allows you to grow a lot of plants, but there is an excellent solution - hanging pots. It looks very pretty and would be a good choice for climbing plant types. If you prefer small planters or do not have the opportunity to grow your favorite plants in large pots for the garden, then decorate your home with hanging variants. This will save space and you can enjoy your favorite flowers all year round in the bedroom, kitchen, balcony, living room, etc. To make your interior even more creative, you can make different types of rope hangers with your own hands.
Material selection
Rope is the most popular choice because it is a comfortable weave material. But many designers also offer great pendant bindings made of large beaded threads, linen ropes, macramé, cords, sticks of wood, etc. It is important to consider pot size and weight along with plant and soil. Your planter should be securely hugged with a rope attachment to secure it from falling.
Step-by-step weaving
Take the metal ring that will be attached to the hanging base. Then we need three ropes that we thread into the ring. We need long ropes to thread them and get six stretches of about a meter each. Now we start weaving using the knot technique:
Make knots with six ropes, each one closer to the ring.
Hang the ring on the hook so that it is more convenient for you to pull the knots while fixing at a certain length.
Now we divide all 6 ropes into 3 groups and work with each pair. Tie in a knot and then take adjacent pairs and repeat the knot.
You should have a zigzag pattern; make a small indent between them.
Once your net is complete, you need to tie all 6 ropes into one final knot.
Now you need to straighten your weave and place the planter inside. Do this by straightening the pattern and hugging the planter from all sides. Make sure the bottom corner is in the middle (under the bottom of the pot). Check the strength of your weave.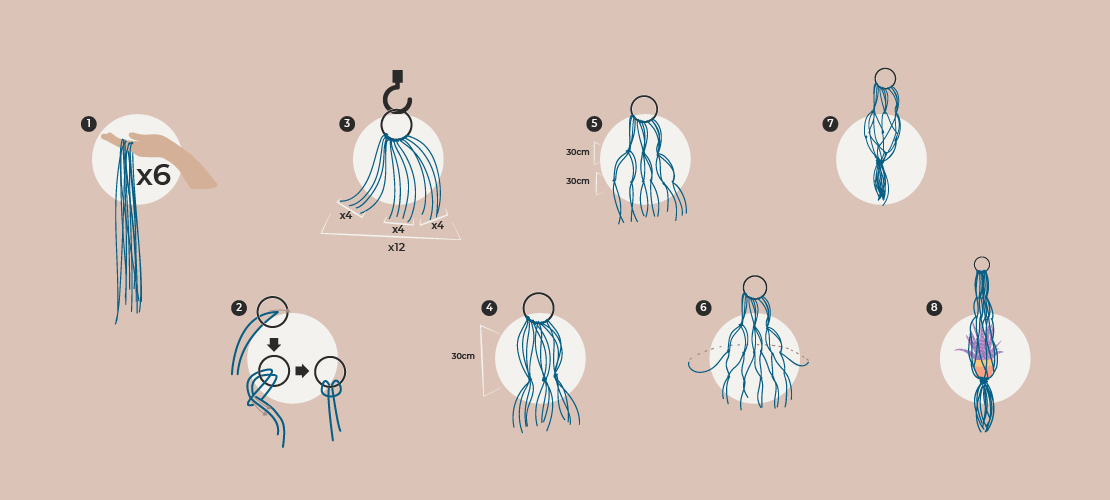 Useful tips
It is important to carefully choose the thickness of the rope given the weight of the pot and its shape. Oval or round hanging planters should be secured more securely than rectangular ones that cling to the gaps in the patterns with their corners. If your plant is twisting and will continue to grow down, then the distance between the nodes should be greater so as not to interfere with the growth of the plant's leaves. Choose a suitable place so that the plants grow freely downward and not rest against furniture and other interior elements with their stems.