Great decoration ideas for your flat
You don't have to tangle with mountains of fairy lights to upgrade the appeal of your home this holiday season. Decorating your space with natural elements like plant arrangements and festive accents is a welcoming way to evoke the spirit of Christmas. To get you inspired, Getpotted.com offers you creative ideas for Christmas home decor that are easy to reproduce.
At Getpotted.com online shop you can buy planters in the UK varying in price, size, shape, and colour to create perfect Christmas home decor.
Use flower pots to create flower arrangements
Compliment your room with this modern plan arrangement – the earthy colour of this pot highlights the vibrant greenery and accents of the Christmas tree. By placing your tree in a stylish LECHUZA flower pot and adding a couple of faux gifts underneath you can showcase your Christmas arrangements with elegance and style. The glossy surfaces of the ornaments reflect candlelight all around the setting, contributing to the aesthetics of your Christmas home decor.
Don't care for traditional red and green? This dazzling Christmas home decor features stylish flower pots Christmas planters adorned with festive ornaments in shades of green, aqua, gold, and white. The monochrome design, with matching table setting, white festive ornaments and a tall Christmas planter as a focal point, delivers clean elegance to your environment.
Christmas arrangements don't need to be elaborate. If you want to create festive plant arrangements in a modern minimalist setting, create a focal point by using Christmas planters that feature minimalistic and subtle decoration. Place your Christmas tree in a modern LECHUZA planter for flowers to create a festive plant arrangement worthy of attention.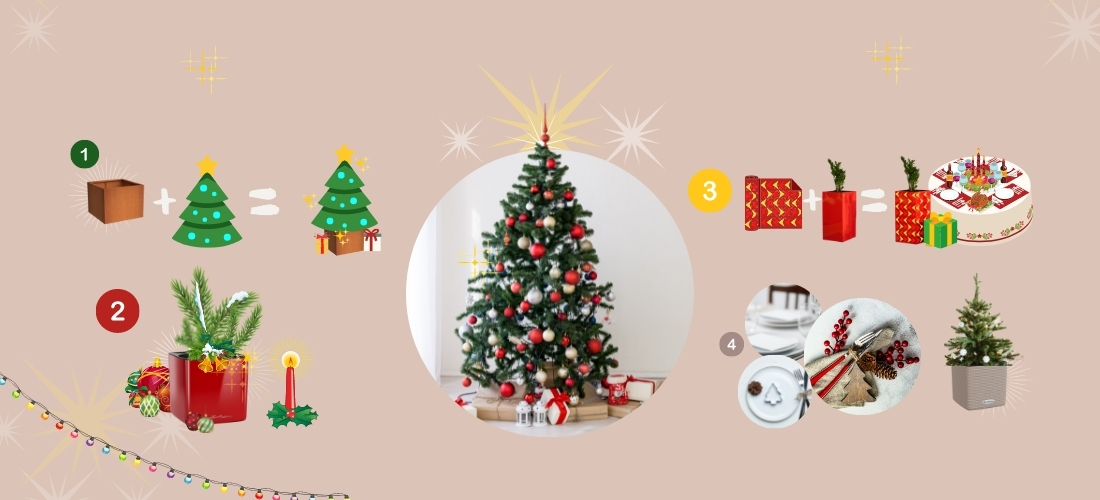 Turn on your imagination
Imagine you really want some beautiful Christmas arrangements, but space is a premium? Or maybe you have numerous spots and locations where you can add some festive decoration? This charming, yet simple Christmas plant arrangement doesn't take a lot of effort to create. Place some tree branches decorated with coloured baubles into this gorgeous snowball-shaped LECHUZA PURO 50 planter to add an accent to your Christmas home decor.
White is a festive colour of winter that is often overlooked in Christmas home decor. Christmas planters that are white or light in colour are an ideal way to feature all the colours of the season. Like a majestic column of snow, this elegant LECHUZA planter perfectly compliments your tree and creates a focal point that reflects light warmly around the setting.
Complimenting your existing tall planter for your tree with a matching smaller planter is great for drawing your Christmas home decor together. Placing bright red poinsettias with their vibrant green leaves in this compact, yet elegant DELTA 10 planter is a perfect way to coordinate your plant arrangements.
LECHUZA DELTA 10


from £14.99

LECHUZA CUBICO Cottage 30


£49.99

LECHUZA RONDO 32


from £69.99