Choosing a Perfect Outdoor Heater
If autumn evenings on the patio or in the yard suddenly start to feel like a no-go for spending enjoyable afternoons – why not invest in an outdoor heater. A good garden heater prolongs the window of possibility for comfortably taking advantage of the outdoor spaces of your home. As cold weather approaches in the UK, it's time to think about getting an outside heater for ultimate cosines.
Our extensive collection of outdoor heaters will perfectly suit any garden, making sure your outdoor space is attractive and inviting all year round. We offer numerous garden heaters from leading brands, such as La Hacienda, thereby allowing you to relax knowing you are buying top quality products for your environment!
At Getpotted.com online shop, you can buy qualitative outdoor heaters – varying in price, look, and colour, with prompt delivery within the UK. Take a look at our range of garden patio heaters to choose the best fit for your outdoor appeal.
Wall-mounted infrared garden heaters
This revolution in the world of outside heaters runs on regular household electric current and offers 90% heating efficiency. With less expensive operating costs than propane units, they reach 100% heat production in seconds. They are energy-efficient, and extend the heating area, while there is no release of harmful emissions. Infrared garden heaters are perfect for going green and are adaptable for indoor and outdoor use.
Umbrella outdoor heaters
For a different style in contemporary patio heating, this slick piece also uses regular household electric current – saving money and the environment – but it can be hidden away by attaching it to any standard umbrella centre-pole. Such garden patio heaters are designed with several burners positioned around the umbrella, providing encompassing warmth.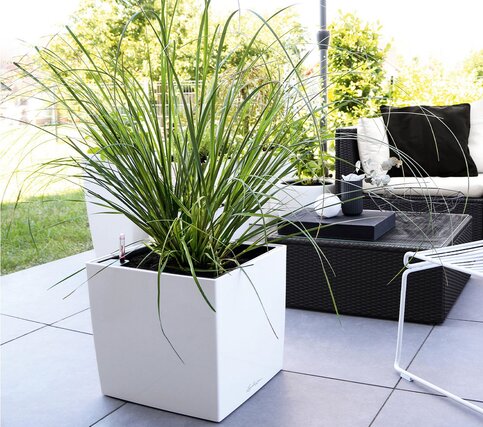 Commercial outdoor heaters
Commercial outdoor heaters can help you keep your deck and outdoor dining area available into the autumn months or later evening hours. These outside heaters can be used for restaurants, bars, bistros, cafes, catered events, warehouses, and stadiums. Stainless steel commercial patio heaters are highly durable and resist rusting, even in rain, frost, or snow, ensuring their good looks last. Because they allow your restaurant to stay open longer and later into the season, these outside heaters are bound to increase your establishment's profit.
Table-top outdoor heaters
For smaller outdoor spaces, these portable, lightweight and easy-to-assemble garden heaters can give warmth and ambiance to any patio-table setting. These outdoor heaters are an excellent option for small parties and dinner gatherings. You can also use a tabletop as an extra decorative function and place one or two outside heaters on single tables around your patio or pool deck - their attractive design will add a touch of style to your home.