Large indoor planters certainly make a statement in interior design. They are successfully used in commercial settings, such as banks, airports and hotels, while many interior designers and decorators buy large indoor plant pots to create points of focus or act as dividers and pathways. Their generous dimensions make large indoor planters suitable for growing flowers and even vegetables inside your home.
So much to choose from!
Large indoor plant pots are available in an assortment of shapes and colours - from classic round pots in natural tones to more contemporary designs and finishes, so you can always find what you need.
You can buy large indoor planters made from natural materials, such as stone or ceramics, but they are also available in modern composites, such as fiberstone or plastic. Such planters are more durable, lighter in weight, and do often mimic the appearance of pots made from natural materials.
The variety of textures that large indoor plant pots are available in is also extensive. From glossy to matte, from ribbed to encrusted - you are sure to find an item that perfectly complements your design. You can always add a splash of glamour to your indoor space with a glitter-finished planter, or if you want to create a cosy feel, go for a resin large indoor planter with a rattan finish.
The right plant for the right setting
Here are a few suggestions for some of the most popular indoor plants that you can grow in large indoor planters.
Yucca needs a lot of sun but hates overwatering when grown indoors. Kentia palm or tree philodendron will both thrive in indirect sunlight. Corton is a plant that prefers east-facing windows for the bright morning sun and ambient light. As for Adenium, it will reward you with large blooming flowers if kept in a large indoor plant pot in as much sunlight as possible.
Species, such as Elephant Ear (Colocasia) Ctenanthe, or Indoor Azalea, to name a few, require meticulous care when grown indoors and are better candidates for outdoor planting.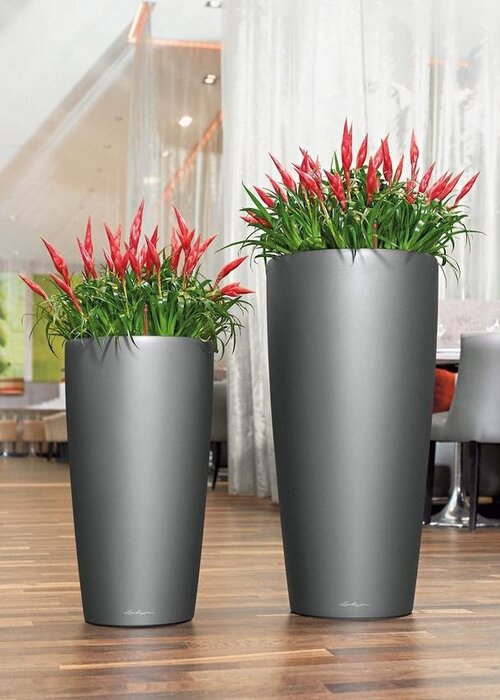 Caring tips for your plants
As a grower of large houseplants, it's important to be aware of the watering needs of each of your plants, especially when using a manual-watering planter. Choose a large indoor plant pot with a drainage hole large enough to let excess water escape freely after each watering to avoid rotting.
If you are not always home, but want to ensure optimal care for your plants, there is a range of large indoor planters with a self-watering feature. Such pots benefit from a built-in moisture wicking system and provide the most efficient and time-effective watering regime, that allows you to leave your home with one less worry.
Here, at Getpotted.com online shop you can buy large indoor plant pots varying in price, size, shape, and colour with prompt delivery within the UK.