«The joy of planting is seeing my flowers blossoming» These emotions are worth a lot. We asked Janice Page fr om Cambridge to share with our readers her secrets for house planting.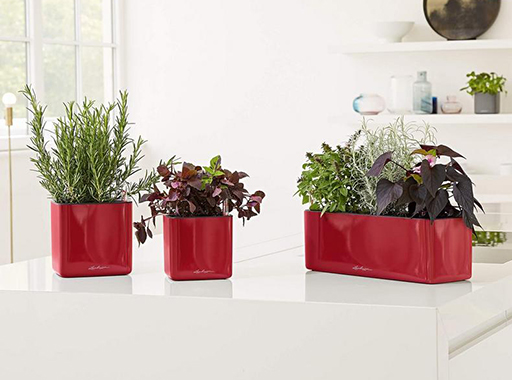 There is a wide variety of flower pots and planters on the market. What criteria were the most important when you chose the LECHUZA self-watering planter and what made it preferable to the competition?
Janice Page: LECHUZA self-watering planters are very convenient and handy. They look grand, but also cute and lovable. The plants get exactly the right amount of water, so they grow much faster and look good, green and alive.
What plants do you grow at home, including those for which you use LECHUZA planters?
J.P: The most recent ones I've purchased include Viola, Orchid, Schefflera, Crassula, Sansevieria, Schlumbergera but there are many others, some of which I can't remember the names of.
How long have you been planting? Do you have any favourite plant species?
J.P.: I'm an amateur; I don't have much free time that I can spend on planting, but I've been planting since about 2013. When I started, all my violas almost died, but I managed to revive them. I don't have any favourite plants, but I do prefer flowering plants.
What do you find the most difficult about tending plants? How do you overcome these difficulties?
J.P.: The main difficulty in planting for me is proper watering. Sometimes I water them too much and the plants start to die, then I forget to water them because I'm busy and they dry out. My plants don't o very well when they are neglected like that. They look haggard and that makes me sad.
How does LECHUZA help with the process of handling plants?
J.P.: Looking after my plants is significantly easier because the watering is regular and individual for each plant. All I have to do is pour water into the planters' tray, once every two weeks. The rest of the time I get to enjoy my flowering plants completely stress-free!
Have you noticed a difference in plant growth between LECHUZA and other pots?
J.P.: Yes, the benefit is tangible. The watering system does the trick, that's definitely what makes the difference. There are other wick-watering systems out there but LECHUZA has really thought of everything. The systems of other brands take up too much space, are not user friendly, or they just seem too complex.
Modern-day flowerpots should be functional and stylish at the same time, so they and their plants take an active part in creating interior design. Which factor is more important to you – functionality or appearance?
J.P.: Personally, interior design is more important to me. If something is functional, but looks disgusting and is too complex to use, I wouldn't choose it. I would definitely prefer to have something more good-looking. Thankfully with LECHUZA their pots have the right look for my space and the right functionality too.
What is the joy of planting for you?
J.P.: The joy of planting for me is to see my flowers blossoming, especially those that I thought were not going to flower. I have one plant, which started to bloom for the first time after 12 years, as soon as I put it in a LECHUZA planter. It was stunning and amusing all at once. My colleagues and friends have also noticed the difference in my plants and keep asking me about how I take care of them.
Do you believe that plants and flowers should be in every house? What is the role of greens in your home?
J.P.: I can't say for certain, since everyone needs to decide for themselves. Not every house needs plants and flowers. I would feel uncomfortable in places wh ere there are plants that are not cared for. I think that flowers are for creating comfort, cosiness and an aura of happiness at home.
Do you place plants outside during the spring-autumn period?
J.P.: For the last three seasons I've been growing plants on my balcony, I tried to plant Petunia Pendula and Lobelia, but the results were unsatisfying. My balcony is situated on the south-west side, but I couldn't water the plants every day, so they dried up fast, died, and I didn't manage to revive them. I'll plant my annuals into the LECHUZA planters next year. I'm sure that I'll succeed.
Do you use tips and recommendations fr om florists or the internet or just go with your gut and trust your own feelings?
J.P.: I love to read advice fr om florists and plant specialists on the internet. Actually, the Internet is wh ere I learned about the effectiveness of wick watering, but the methods they suggested didn't suit me. The design given on the internet was functional, but it didn't blend with my interior (plastic jars, synthetic ropes, there was even advice to use an old pair of tights).
But I have found a lot of good advice too, especially in situations wh ere plants were dying. I found LECHUZA planters on the internet accidentally, and I'm so happy to have them now. Essentially, I consider the experts' opinions, weigh their arguments against my experience and then decide what to do in a situation.
Where do you prefer to buy new plants?
J.P.: I don't have specific places I like to buy plants. I buy them wherever I see them if I like them.
What suggestions can you give to our readers if they want to grow their own plants at home?
J.P.: Pot up your plant in a LECHUZA self-watering planter, don't attempt to carry out any experiments on them, that only causes more confusion and could even harm the plants. Simply follow the instructions and things will work out fine.
What advice can you give to readers thinking of buying a LECHUZA self-watering planter?
J.P.: Reader, if you are thinking of buying these planters, you will like everything about them, but the price is still something to consider. Why do plastic pots cost a lot of money? I concluded that nothing can wreck these planters. Plastic planters have a longer service life than ceramic ones. You buy the planter once, then just enjoy them and forget about the problem of continuous watering.
I would advise readers so see how good these planters are by buying one. You will have great enjoyment from your plants, while getting compliments from your friends on your beautiful flowers.
Column written by: GetPotted.com