Idealist Lite
71851
Product ID: GPSDGW251
Square Box Contemporary Faux Lead Light Concrete Planter H25 L25 W25 cm
OTHER COLOURS
Choose colour:
OTHER SIZES
Choose size:
L25 W25 H25.5 cm
L30 W30 H30.5 cm
L40 W40 H40.5 cm
L50 W50 H50.5 cm
H60 L60 W60 cm
H75 L75 W75 cm
IN STOCK 17 PCS - DELIVERY WITHIN 1-3 WORKING DAYS
Choose colour:
Choose size:
L25 W25 H25.5 cm
L30 W30 H30.5 cm
L40 W40 H40.5 cm
L50 W50 H50.5 cm
H60 L60 W60 cm
H75 L75 W75 cm
– +
| Buy 3 or more | Buy 5 or more | Buy 10 or more |
| --- | --- | --- |
| | | |
– +
| Buy 3 or more | Buy 5 or more | Buy 10 or more |
| --- | --- | --- |
| | | |
Why choose a BALI member?
SHORT PRODUCT DESCRIPTION
Fiberstone Construction: This pot planter by IDEALIST is constructed with fiberstone that renders pot the strength to withstand extreme weather conditions without cracking or breaking.
Multipurpose Pot planter: The planter cube can be used to grow a variety of indoor and outdoor plants including flowers, cactus, and succulents.
Versatile Design: Featuring simple cubic design in Washed Dark Grey finish, this garden planter blends well with both, modern and traditional exterior decor.
Easy to Move: Although, constructed with fiberstone, this cube planter box is surprisingly lightweight and easy to move from one place to another.
Product Description: This stone planter is square shaped and measures 25 cm in length, 25 cm in width, and 25.5 cm in height.
Buy Functional Gardening Supplies
Choose IDEALIST Cube planter - Versatile and Long Lasting!
Accent your verdant space with this modernistic square planter by IDEALIST. Neatly finished surface comes without details so that all attention is directed towards blossoming plants, while the pot blends seamlessly with the rest of the surroundings. This weatherproof planter comes with an intelligent pre-drilled hole at the bottom to prevent water retention and ensure the plants are healthy. This Stone pot exudes simple elegance that complements all kinds of modern decor. It is a fitting gift for anyone who loves to grow green pockets in and around their home.
More Information
PRODUCT INFORMATION
PRODUCT DETAILS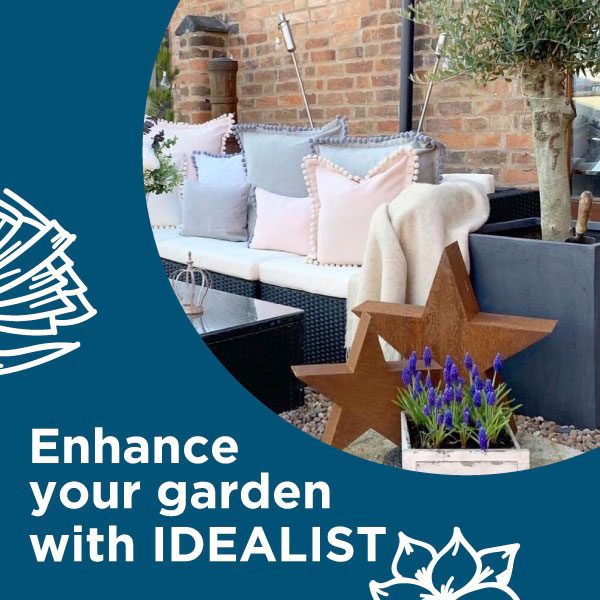 Enhance your garden with Idealist
The IDEALIST pot is a combination of sophistication, offering a practical and functional modern design all whilst being affordably low priced. These pots' design and functionality are created specifically for the UK market, and are ideal for decorating gardens, patios, and finally residential and commercial spaces.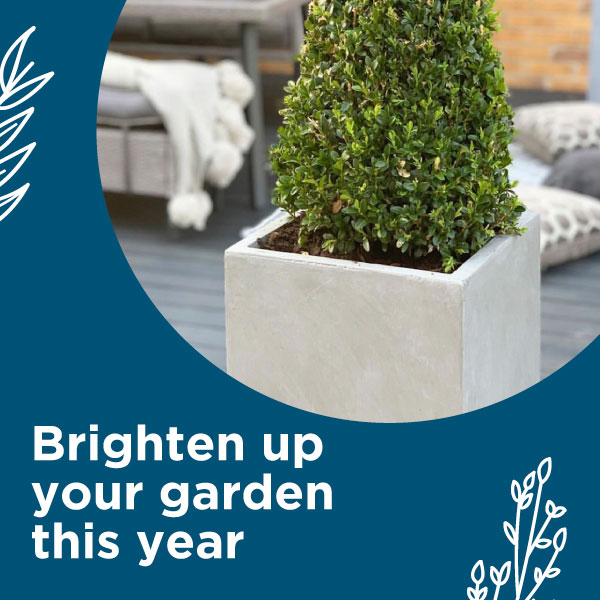 Brighten up your garden this year
The pots are made of innovative and durable fiber-stone and fiber-clay material, which give them increased resistance to climatic conditions. They can be left outdoors year-round and are UYV and Frost Resistant. They do not lose their performance or noble appearance for many years, while maintaining their unique authentic look.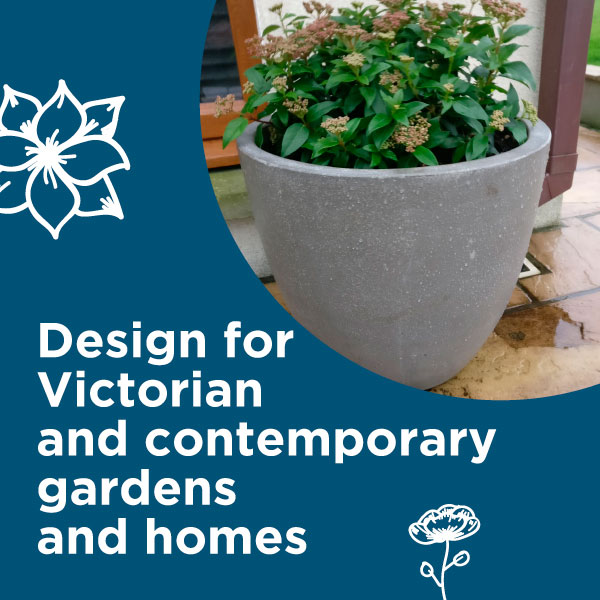 Design for Victorian and contemporary gardens and homes
Elegant and stylish IDEALIST pots will fit into any space in a Victorian or modern home. The stylish design of the flowerpots helps draw attention to the natural beauty of the plants themselves, making the plants a statement item.

Thanks to a large selection of various shapes, styles and sizes, it is not difficult to choose pots for decorating your space at home, office or garden. IDEALIST planters quickly and easily transform any space they are put into!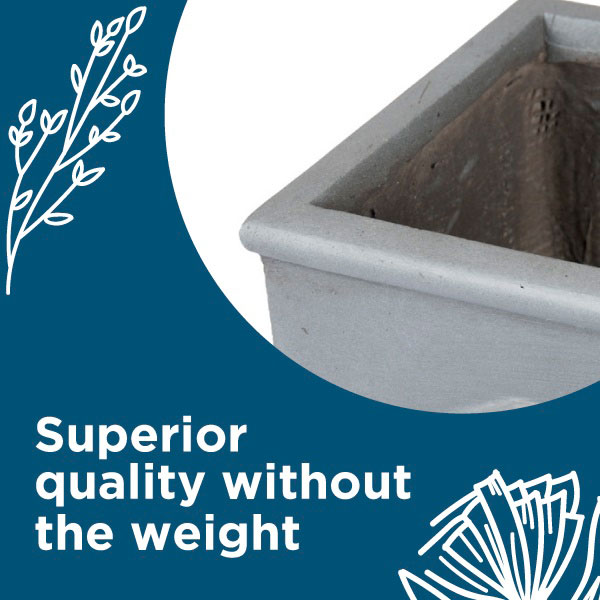 Superior quality without the weight
The IDEALIST pot possesses first and foremost an impressive appearance. Its matte surface, with its characteristic texture, perfectly conveys the texture of the stone. This material not only gives the pots a solid look, but also provides excellent performance. However, despite the large and bulky appearance, the weight of the pots is designed so they can be easily moved from place to place throughout the garden or premises.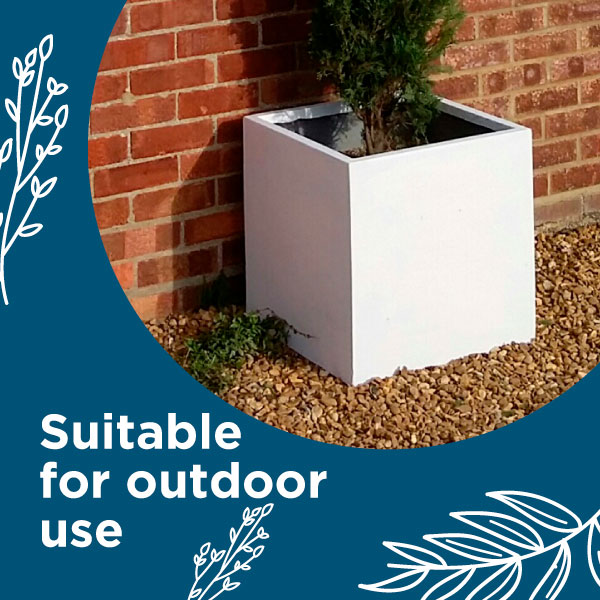 Suitable for outdoor use
IDEALIST pots are made of high-quality composite materials, which doesn't impede air circulation in the soil or the respiration of the roots. It doesn't interact with the flower primer, therefore doesn't corrode or lead to souring.

The pots are resistant to UV rays and sudden temperature changes, so they can be used to decorate in open spaces. With IDEALIST pots, your garden will look stylish all year long!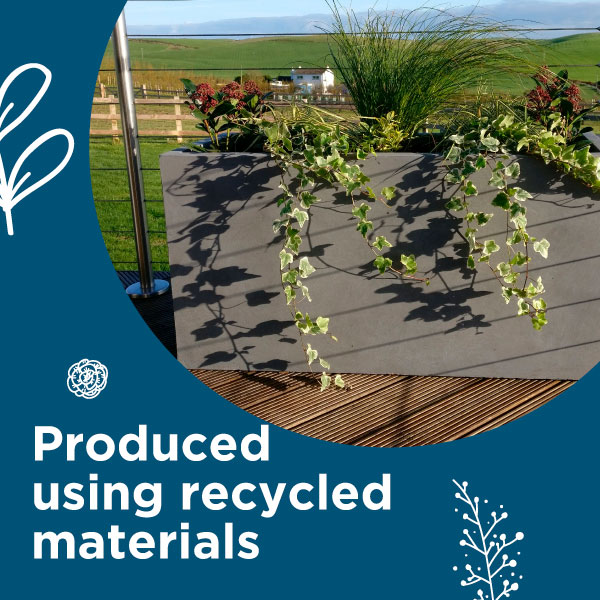 Produced using recycled materials
IDEALIST pots are made from environmentally friendly materials using innovative technologies. Using them in the decoration of your home and garden spaces, you support nature not only in the garden, but throughout the world, because the pots are made from recycled materials and can also be recycled in the future.
Developed in the UK