Windowsill Planters Buying Guide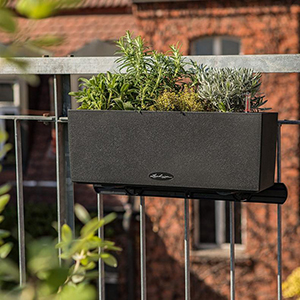 The windowsill planter box is an easy-to-fit decoration that can imbue a splash of colour and can make any home look like a photo, whether country house or a city apartment You can add an eye-catching accent of flowers to your decor or include some home grow in love in your recipes with cultivated herbs grown in your windowsill planters indoors. Select the price and look that suit you in our online shop at Getpotted.com.
Planter box gardening
Growing a plant in a windowsill planter indoors gives you the benefit of controlling environmental conditions more effectively. Prior to putting your greeneries into a windowsill planter, take cuttings from some of your favourite indoor and outdoor plants and root them in water.
Use a sharp knife or secateurs to create a cutting and remove the lower foliage. Put your clipping into a small receptacle of water. This is the most common and simple method to use, but doesn't suit all cuttings. Replace your windowsill planter water weekly as stale water turns cloudy and detracts from the attractiveness of the project and creates an unhealthy medium for the plant. When tiny roots appear, transplant them into your windowsill planter box and enjoy them growing and blossoming.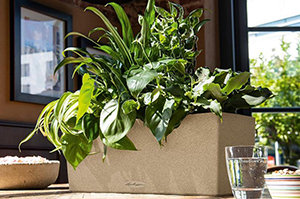 Growing herbs
Consider buying a windowsill herb planter that is easy to setup and enjoy years of use. Various kits are available, from small, self-contained setups that fit on almost any window sill to larger windowsill planter boxes. You can also order some packaged sets that include soil wafers and drainage material.
Since windowsill gardens are rather small, you can plant seeds directly into the windowsill herb planter and forget about transplanting, but do avoid exposing newly planted herbs to extreme temperatures or changes in the environment.
When growing herbs in windowsill planter indoors, use a pot with a depth of at least 6-inches. Remember that herbs need to be trimmed to continue growing, so prune regularly.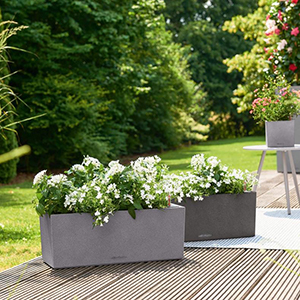 Things to consider when buying a windowsill planter
It's wise to buy a windowsill planter with efficient drainage as it is of vital importance not to over-water your flowers or herbs. You will also want to include a tray or saucer beneath it to catch any excess water and avoid damage to your window sill or property.
As for material, our recommendation is to consider a windowsill planter of high-quality fiberglass or fiberstone, produced in the UK. Items in these materials receive the best reviews from professional gardeners and interior designers. They come in a variety of finishes like clay or metal and are lightweight, which gives you more scope for rearranging if you like to move your windowsill planters around. They are very easy to care for and are constructed to serve you for years.