Self-Watering Planters Buying Guide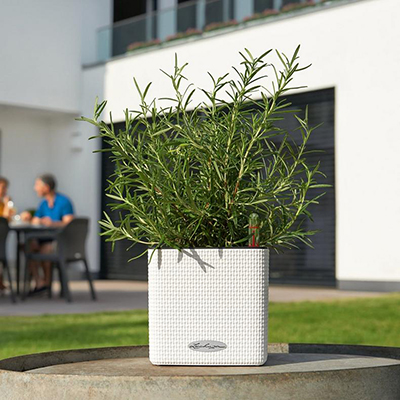 Main Questions about Self-Watering Planters
Self-watering planters are a convenient way to make sure your plants are looked after, while saving you time. After all, we don't all have the time to spend hours watering our plants and making sure they last! Allowing you to have an array of beautiful plants both in your home and in the garden, all self-watering planters are ecologically sensible and use resources responsibly.
So, if you're going to on holiday for a while or you simply live a busy lifestyle, a self-watering planter could be just what you need. Here at GetPotted.com we want to help you in creating a perfect garden, so here's some advice on buying self-watering planters.
Are self-watering planters helpful to the environment?
When watering your plants manually, there will no doubt be some wasted water as it drains away and sometimes even evaporates. By buying self-watering planters for your garden, you can minimise the amount of water that is wasted.
Protected in a reservoir within the planter, water is slowly released into the soil when it is needed. This results in less water draining away, and reduces the amount of water used overall. Allowing you to be a little more environmentally friendly, this is an important factor when it comes to self-watering planters.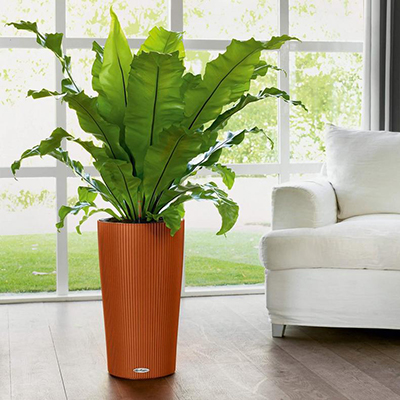 Can self-watering planters be used both indoors and outside?
The design of self-watering planters has evolved and there are both indoor and outdoor options; meaning you can have well-looked after plants all over the house! Many of our planters are equipped with an overflow system and a drain plug, which means they are perfectly suitable for outdoor use. Simply remove the drain plug when using it outside, as this can allow excess water to run off after a heavy rain shower and save your plant from becoming waterlogged.
Our self-watering planters are resistant to the elements, including frost in the winter. However, your plants need to be frost-proof too!
If you want to bring your planter inside, simply leave the drain plug in! If your self-watering planter doesn't have a drain plug, it's recommended that the planter only be used indoors.
How do I use my self-watering planters?
Your self-watering planter will be able to take care of your plants, but there are some points to follow to ensure they have the best start. During the first 3 months after you've planted your plant, you should water the plant from above as you would with a normal planter.
After this period, your plant's roots should have grown enough to look after themselves with water from the reservoir!
So, to give yourself freedom to travel without worrying about your plants, consider investing in self-watering plants and change the way your home and garden looks.