How to choose flower pots and plants for your interior - Interview with an Interior Designer
Plants are becoming an increasingly popular way to make the interior of your apartment stylish and environmentally friendly. However, different plants are suited to different apartments. We spoke with both a Phytodesigner and an Interior designer about how to choose the right plants and how to place them in premises of different designs and squares.
How and where should you place plants in a studio apartment, or a one, two, or three-room apartment?
Interior Designer:
Flowers always harmoniously complement any interior. Especially if they are competently matched in style and placement.
Studio
If you have a studio, even there you can organically fit plants. Place mini plants in the bathroom, on table tops or on an open shelf. It is also possible to place a small plant in a sanitary unit in a niche above an installation and these rooms will play in completely different colors. Choose plants that grow in the shade.
Between the hallway and the main room is an excellent space to mount a rack or decorative partition. You can put plants on the shelves. Such a partition perfectly zones the space and lets in natural light, which is very important in small rooms.
One room apartment
I really like it when the kitchen has real flowers in stylish vases or pots. In the room on the windowsill, low plants in tall flower pots will fit perfectly, and the dinner table in the kitchen can be decorated with small compositions.
2-bedroom apartment
The bedroom is the most intimate place in any apartment. It is very important that the interior is set up for rest. The right combination of colors, light and even scent is important. I do not recommend using artificial flavors. With this function, flower compositions perfectly radiate delicate fragrances. The main thing is that you like the scents. Also choose plants that purify the air well. In the bedroom, this is especially true for healthy sleep.
The color of the pots for the bedroom is chosen to match the overall color scheme of the room. As a rule, these are light shades, so the color of the flowerpots is better off light as well. If the room is small, use 1 or 2 plants. For example, one on the floor (not higher than your height), and one on a desktop.
3-room apartment
Children - it would seem that in the nursery there is no place for plants, as children are very mobile and curious. As a rule, when we speak of children, we assume ages 5 and older. Accordingly, at this age children understand everything perfectly and one needn't worry that the plant will be tasted or tipped to the floor.
In nurseries, I prefer to use small pots with plants on the windowsill, desk or shelves. The main thing is that the compositions are small and do not block the light from the window.
Tip:
Florariums decorate any desktop better than the most expensive decor. Large pots will fit into the interior of the nursery only if you, for example, have a loggia with windows on the floor to the children's room.
Large pots will fit into the interior of the nursery only if you, for example, have a loggia with windows on the floor to the children's room.
Living room - select several plants in a similar style of pots.
Tip:
Accentuate the dynamics of the interior with plants of different heights.
The dining area is always beautifully decorated with two identical large pots with a green crown of plants placed in corners along one wall.
Always try to use no more than two or three types of pots in an apartment. It is desirable that they be in the same color scheme, unless your interior is in the style of eclecticism, in which there is perhaps a wider combination of styles.
Phytodesigner:
Additionally, it is also correct to take into account the location of windows. The most active windows are southern and western. There's always an active light and it's good to plant plants that flourish in and love direct sunlight. For example, succulents, sansevieria.
Near these windows, which may be covered by curtains, the sun's rays can be used to maximum effect with variegated plants, which like both good and diffused lighting. The general rule is that the more colorful the leaf is, the more photophilous the plant is.
On the eastern and northern windows, I recommend planting shade-tolerant plants. For example, aglaonema, zz-plant and others.
Please give some tips on combining style, interior color and pots
Interior Designer:

It all depends on the style of the interior and the goals that you pursue. Here are some tips on the example of a kitchen set:
1. For a light kitchen in the classical style, use wicker white flowerpots, concrete pots (or similar color), matte and gloss;
2. For dark modern kitchen I prefer dark matte and glossy pots, but if the room is small and you want to add light, use matte and glossy pots that match your taste;
3. For a wooden kitchen, we recommend wicker pots, matt gray, white, and black;
4. If the kitchen is light from plastic, I recommend wicker white flower pots, concrete pots, matte and glossy colors;
If you choose compositions in the nursery, use white matte and glossy bright flowerpots, as well as gentle pastel tones. In this table you can see how to choose the right flower pot for your interior.
Color of flower pots
Bright, intense
Glossy white, silver metallic
Matte white, gray, black, concrete
Red, blue, brown, white, matte and gloss
White, gentle pastel colors, brown, braided
Interior styles
Avangard
(style innovation)
Baroque
(glittering era)
Bauhaus
(cult of functionality)
Biedermeier
(charm of the bourgeoisie)
Vintage
Boho
(motley freedom)
Art Deco
(luxury quisistency)
Industrial
Classicism
(the spirit of residences)
Country

Classical
Loft
Conservatism
(pre-orderliness)
Provence
Constructivism (a union of glass and metal)

Scandinavian
Minimalism (maximum of space)
Shebbie chic
High tech
Rustic (naturalness)
Parisian

Romanticism
Eclectic (meaning any combination of colors and textures)
Phytodesigner:
When we plant the apartment, the phytodesigner comes to the finished interior. The task of the phytodesigner is to support the interior that is offered by the interior designer.
Tip:
Selection of pots and plants is based on the style of the interior
For an English interior we recommend those plants that are popular in England. For example, the ficus is elastic robusta or ivy.
For interiors of the eclectic you can take plants from different groups and mix, for example, bananas and the currently fashionable strelitzia, monsters.
For lofts, pots with rough surfaces should be considered and plants of strict form, such as sansevieria.
Tell us about three design tricks that you can use at home in practice
Phytodesigner:
Use Phyto particles if the area of the apartment is small. Due to their ecological compatibility, they perform all the functions of a potted plant. Phyto-cards are mounted on the wall and save space on the floor. However, much depends on the budget.
You can also zonate the room, creating partitions with plants.
Also, currently in fashion are mini-gardens and florariums. Everything depends on the task.
Interior Designer:
There are many options for placing plants in small rooms:
1. Florariums are stylish, modern and do not require much space;
2. Suspended plants in pots aren't just a variant of grandmother's lace from the ceiling. These are suspended pots or a suspended structure with small pots. These should be simple and minimalistic;
3. Vertical systems for placing pots - shelves at different heights, racks, or decorative rack partitions with inserted plants;
4. Narrow elongated small flowerpots - even on a narrow window sill there is an opportunity to place a plant. Or next to the sink in the bathroom. Believe me, when you go in the morning to wash, your mood will be improved.
5. Flowers in a vase in the center of a dining table are a delightful sight for the eyes. A bouquet of flowers on a coffee table or working surface takes up very little space, and the pleasure delivers a long time.
Why are the least popular areas of gardening in the kitchen, bathroom and children's spaces?
Interior Designer:

We have historically not been interested in planting these zones and are just now entering this trend.
The kitchen is a place for cooking. Mistresses are careful that the plant won't interfere with cooking or take up space in working areas or on the dining table. However, if you can find room for a small floral composition, the interior becomes cozier and no one will want to remove them.
In the bathroom, many of us simply do not know where or how to place plants in a small, often damp room without natural light. But it is worth consulting with a florist or phytodesigner, as it turns out that for some plants these are quite favorable conditions.
In children's spaces, kids are very active and mothers prefer to protect themselves and their children, so that, for example, a child does not taste the plant. However, from a certain age, plants for the nursery are useful. They clean the air, influence the development of creative abilities and stimulate the imagination. It is important only to choose the right grades, as not all plants are suitable for children's rooms.
My clients use Pinterest or Instagram in search of ideas for their interior. They see examples where plants are used as décor, and as they develop their ideas, they talk more about plants. Plus, when I use plants on my own initiative, customers see the visualization of their interior, and agree that the plants there look appropriate.
If people are renovating an apartment, do they need to allocate space for plants when planning?
Interior Designer:

If the renovations are already under way or soon to be undertaken, a space for large-sized plants is most often included at the planning stage. Conversely, for small flowerpots, there is no need to plan a place.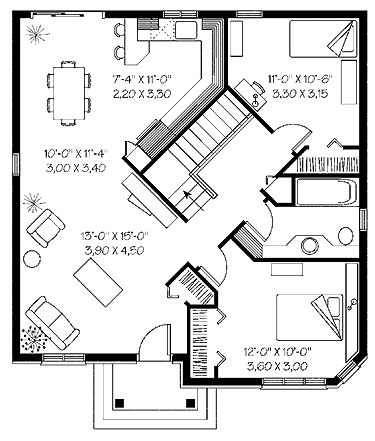 How should one decorate the interior with bright plants, if a person is allergic to pollen?
Phytodesigner:
In general, most plants are supplied from Holland, even flowering-hypoallergenic types, but reaction to pollen is rare. So, you can try. If you do find yourself allergic, then in principle all plants will be allergenic, and plants may not be for you.
Is it true that different plants act on people in different ways? Some are fit for the office, others for the bedroom, for example.
Phytodesigner:

This is a very interesting question. There are 2 approaches to it.
The first is purely visual. There are plants with large soft-looking leaves, and there are those with sharp ones, such as flowers or fruits like mandarin. When we see plants with different crowns, fruits or buds, we experience different feelings. It can be security and peace, relaxation, a mood for creative activity or concentration at work.
The second is Feng Shui. Feng Shui specialists distinguish different groups of plants. There are rules for choosing and placing plants. There are even rules of the zodiac. Each sign corresponds to its own plant. Those who believe in such things find that careful plant selection works.
--
Thank you for the interview.
Photo courtesy of pinterest.com