6 Stylish Christmas Table Decoration Ideas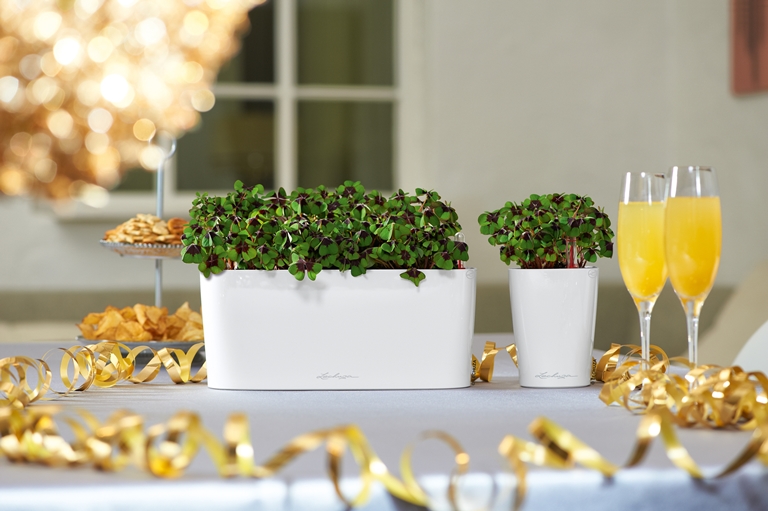 6 Stylish Christmas Table Decoration Ideas
Nothing is more important on Christmas Eve than the centre table, that's why we're offering you our fresh Christmas home decor ideas. Spruce up your setting by creating elegant Christmas arrangements using modern indoor planters.
Choose the right planters
A slender, stylish planter filled with delicate-looking herb, moss or air plants is the perfect, easily created centrepiece for banquet-style Christmas arrangements. Turn your ordinary table into a living, breathing work of art by pairing modern LECHUZA Delta 10 and Mini-Deltini indoor Christmas plant pots. Their glossy look goes great with other little festive touches, such as curling golden ribbons, glitter sticks, and celebratory drinks.
Whatever the menu, a holiday table deserves a special touch. Group several compact and attractive tabletop planters, like LECHUZA Mini-Deltini, together to form a grander contemporary centrepiece. Add sparkle to your minimalistic plant arrangements with shiny gift-wrapping ribbons, sparkly ornaments, and other traditional elements of Christmas home decor.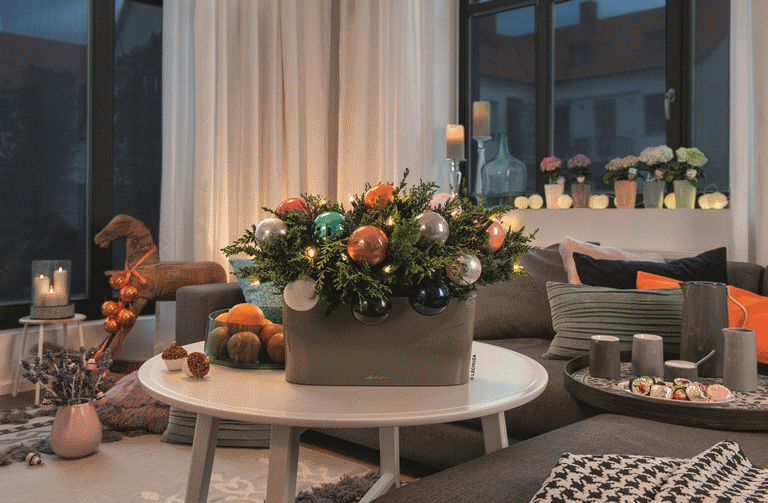 Ideas for Christmas Table Decoration
Create a warm welcome and design your Christmas arrangements by combining minimalistic elements with cheerful complements. To create this stunning piece of Christmas home decor, adorn a simple grapevine wreath with ornaments and suspend it from the ceiling. Why not add sparkle using festive Christmas planters to evoke an entire holiday scene across your table with this LECHUZA Delta 20 full of Christmas cheer?
If your tree is becoming decoratively overloaded, you can always adorn a hanging wreath or a tabletop plant pot with ornaments. LECHUZA Deltini flower pots are not only perfect for growing, they can also be used as Christmas home decor. The glossy surfaces will reflect candlelight all around the setting, adding a festive flair and holiday charm. Simple glassware perfectly complements such cosy Christmas arrangements.
A festive Christmas table comes alive with the colours of the season. Red and green have always been the palette associated with Christmas, so set the stage for eating using both of these bright colours. Create cheerful plant arrangements with Christmas planters like LECHUZA Mini-Deltini. With evergreen branches and red berries, this centrepiece represents the essence of the wintery outdoors when it's too cold to leave the house.
Although ornaments, wreaths and garlands are winter holiday fundamentals, you can definitely have a fabulous Christmas Eve without them. Use tiny plant arrangements in a monochrome palette to give just a brush of winter without going overboard. Featuring a surface that is robust, yet soft to the touch, minimalistic planter LECHUZA Puro 20 emulates the spherical shape of Christmas ornaments. Who said a monochrome palette couldn't be festive?
At Getpotted.com online shop, you can buy flower pots in the UK varying in price, size, shape, and colour to create the perfect Christmas home decor.
LECHUZA DELTA 10

from £14.99

LECHUZA DELTA 20

from £29.99