>Christmas planters for Your interior
Christmas is a time to adorn your living room, entryway, or even your kitchen, as well as the outdoor spaces. The front porch is your guest's first impression when visiting you so make sure it offers a festive touch during the holidays.
Christmas Ideas
Christmas planters are very inviting, placed either side of a staircase. Once winter weather arrives and your plants move inside at first frost, replace them with creative Christmas arrangements. The LECHUZA BALCONERA is a
the best self-watering planter
which can help fresh evergreen branches last longer than they would if used in a wreath or garland. With a little greenery, lights, and ornaments, you can take the decoration of your Christmas porch to a new level!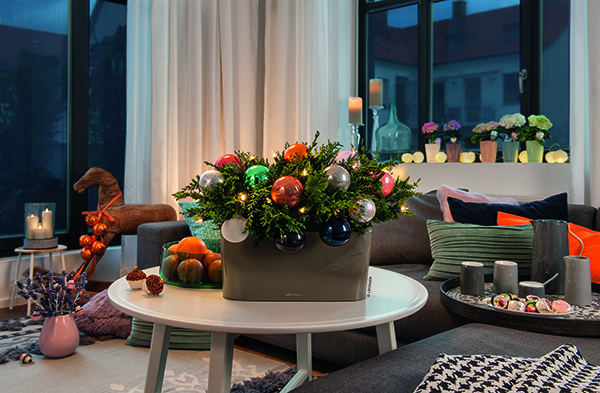 There's no need to buy a ton of decorations to add a dash of magic to your porch. Simply use planters and then add a few decorations to them. For plant arrangements, ornamental cabbage, kale, pansies, or daisies are great options as they are cold-hardy plants. You can create an extraordinary display by assembling Christmas planters such as 2 or 3-tiered Lechuza Cascada. Simply treat these planters like miniature Christmas trees and decorate them to your taste.
Christmas planters
The main advantage of potted Christmas trees is that opportunity to also place them outside and use them all year round. Artificial versions can also enrich your Christmas home decor. A round planter pot with a matte finish, like the LECHUZA CLASSICO, gives your interior a modern and minimalistic touch. For a more festive atmosphere, you can jazz it up with bright ornaments and coloured Christmas lights.
Greens look natural when combined with red, white, and brown Christmas decor with wooden furniture and accessories. You can add softness and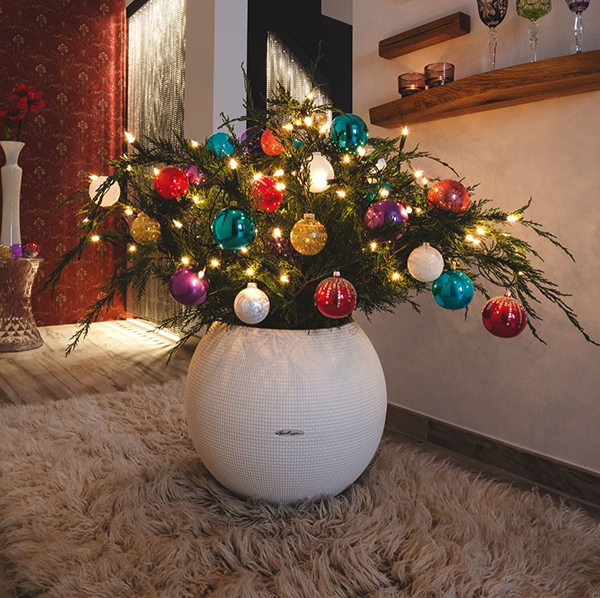 warmth to your Christmas home decor by placing a Christmas tree into a natural-coloured planter. LECHUZA CUBE Cottage is perfect for decorating your country house interiors and creating a festive, winter holiday atmosphere.
Christmas centrepieces are the most vital elements of Christmas table decor and very necessary when attempting to create beautiful Christmas arrangements for this special holiday. Planters, like LECHUZA DELTA, are perfect for Christmas arrangements as you can decorate them with flowers, pinecones, or candles, creating a welcoming and friendly atmosphere at the table.
We`ve made it easy for you to create the ideal Christmas. At Getpotted.com online shop you can buy planters in the UK for your holiday decoration varying in price, size, shape, and colour.
LECHUZA BALCONERA Color


from £29.99

LECHUZA CLASSICO 35


from £32.99

LECHUZA CUBE Cottage 30


from £39.99

LECHUZA DELTA20


from £29.99